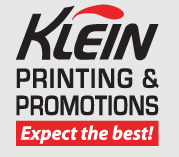 2491 Dixie Highway
Fort Mitchell, KY 41017
phone (859) 341-4774
www.kleinprinting.com
Expect the Best
Our experience and knowledge will help you achieve your goal of purchasing quality marketing materials and innovative promotional products for the best possible price. If you require logo development, stationery, brochures, posters or any type of printed advertising our creative team has the ability to produce artwork guaranteed to portray the image you are looking for.
Independently Owned
Klein Printing & Promotions is a certified woman-owned marketing and communications company serving businesses and non-profits. Our creative team will take care of your print and promotional needs while giving you great ideas to promote your company or organization.
Established
Since 1981, Klein Printing & Promotions has been producing high quality 1-4 color corporate printing and promotional items while providing exceptional customer service.
Personal Touch
Work directly with people who oversee your orders from start to finish. This ensures that you are always speaking to someone technically knowledgeable and aware of your project status.
Flexible
Offering a flexible schedule and working within budgets allows us to always meet client's needs.
Give us a try! We guarantee you'll be pleased.